Celebrating the Holidays with your Senior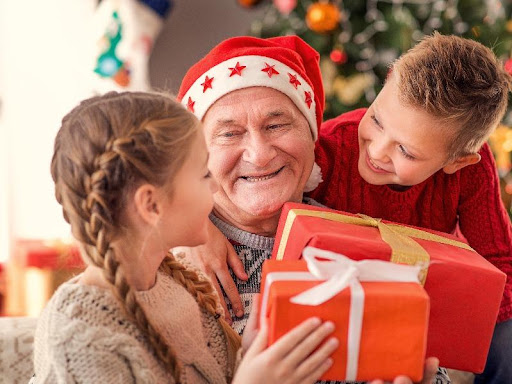 The holidays are in full swing, and it's time to celebrate with your senior loved one. If your favorite senior citizen has declined physically or mentally this past year, you might not feel much like celebrating, or might think they can't even do much to celebrate. But there is always something you can do together, which might brighten both of your moods. Whether they are homebound, or are ready to sit front and center at a local Christmas parade, there are plenty of ways to celebrate the holidays with your senior loved one. Get creative. Come up with ways you can celebrate in the home or outside at holiday events. If your senior loved one is more forgetful these days, find ways to bring in some of their past Christmas memories into play. Your celebrations may need a little modification this year, but still there are plenty of ways to celebrate.
Here are 10 ideas to celebrate the season with your senior loved one.
1. Go through old family Christmas photos together. Reminisce. See what memories and stories the photos bring up. Look in the background of the photos to see what decorations were up about the house for Christmas. See if your senior still has any of those out on display. Maybe some are stored away in the attic and you can bring a few out this year. Copy some of the photos and make an entire album of just Christmas pictures through the years. Leave it with your senior to look through when you aren't there. If your senior loved one is declining mentally, a trip like this through memory lane might be just what they need this holiday season. Remember to take new photos this year with your senior to add to the album.
2. Watch some holiday movies together. Whether your senior is more of a Hallmark Christmas movie type of a person, or an "Elf" fan, pick a favorite and make a night of it. Don't forget the popcorn, hot chocolate, and cozy holiday blanket.
3. Consider hiring a home care worker to help for the holidays. Your to-do list is probably a mile long. Having a home care worker come in to help your senior loved one with everyday tasks, such as bathing and getting dressed, will free up some of your time and lessen your worry. It will also give you more uninterrupted, less stressful time to simply celebrate the season with your senior loved one. Agencies, including One Solution Home Care, can help craft a plan to be on hand for short or long periods of time. They can even send someone to help so you can enjoy a worry-free night on the town, knowing that your senior loved one has a companion there to keep them company.
4. Take a drive to see the lights. Many small towns throughout Rhode Island and Massachusetts put on quite the light show at Christmas time. You can drive through downtown main streets, or pick out the neighborhoods with the biggest homes and brightest lights to go through. To see the sites, your senior loved one won't even need to leave the car, and can stay cozy inside from the cold New England winter air. Pick your favorite displays and make up your own award system for best lit home, or most hideous and gaudy display.
5. If your senior loved one can't get out of the house this holiday season, make sure you light up their living space. It is amazing what a string of bright lights in a room can do for the mood. Get out some of their favorite decorations. Decorate together, or have them tell you where to put their most precious ornaments and decorations. Buy them something new, like a cute Christmas gnome to add to their display.
6. Build gingerbread houses together. If your senior loved one can't maneuver all of the tiny candy pieces to decorate the house on their own, team up. Invite other family members over and make a contest of it, and see which team can make the best house this year.
7. Get out the recipe box and make some holiday favorites together. If mom can't bake like she used to, help out and enlist the grandkids. She can teach them her recipes. Make favorites that she bakes every year, such as gingerbread men and spritz cookies. Have her teach the kids how to use a cookie press. Try an old recipe or two that used to mean Christmas to your family, such as Coca-Cola jello salad and fondue, and relive the memories.
8. If your senior loved one can't make it to all of the holiday celebrations planned this year, bring the celebrations to them. There always seem to be so many leftover goodies after holiday parties. Gather some together and bring them to your senior loved one to enjoy. Eat them together and talk about all of the people you saw at the party and what they are up to. If guests are visiting from out of town and your senior loved one knows them, have them stop over, even for a little bit, to say hi and visit.
9. Plan some Christmas crafts with your senior loved one. Whether it is as simple as doing holiday coloring sheets, or as complicated as making stained glass ornaments. Crafts are a great thing to do together, and something your senior loved one can do while seated.
10. Christmas music always puts people in a good mood. Cue up a Christmas playlist for your favorite senior. Start it while you're still with them, and let it continue to play after you've left so they have something to listen to. If you're musical, or if your senior is, play some tunes on the piano. If your senior is able to leave the home, take them for a ride and blare the carols while you both sing along.
One Solution Home Care Is Here To Help
If you are looking for someone to help your seniors this holiday season, and every season of their life, One Solution Home Care can help. Our caregivers can help ensure they are safe in their own homes, and provide fall prevention services. Whatever your needs are, we will try to help match them with compassionate, professional caregivers.
One Solution Home Care helps people in Massachusetts and Rhode Island live full, independent, safe, and dignified lives within the comfort of their own homes. If you are ready to talk about hiring an in home caregiver, we are available to answer any questions you might have. Fill out our online form or give us a call at (508) 617-8233.